We Made Bubbles!!
You've probably heard me talk about making sparkling wine. And I'm sure many of you heard me say it so many times that you started thinking it was just that - talk. But we have news for you... WE FINALLY DID IT!! Sound the trumpets, hoist the flags - it's time to celebrate with some LORING BUBBLY!!
It's been a long journey getting to this point. We tried in 2005,2006, and 2007, but failed miserably :( The silver lining is that we learned from those mistakes, and have now made something we're really proud of. In fact, two somethings - a 2009 Brut Blanc de Blancs and a 2009 Brut Rosé. While we made about 100 cases of each, we only disgorged half of them. The remainder will rest for a couple more years gaining complexity - think of them as our version of Dom's Oenothèque. We plan on doing that every year, which is why all our labels will have both the vintage date and disgorgement date. Something we wish ALL sparkling wines listed. As far as going forward, we have the 2010, 2012, and 2013 vintages waiting for their time to shine. And 2014 will be joining them shortly.
So, here they are... FINALLY. And just in time for the Holidays. And WITHOUT cork!! Hey, you'll actually get to use your corkscrews on a Loring wine.... to pop the bubbly crown caps :)
These wines are now available for purchase to List Members through our on-line ordering system. The Fall Release wines will still be available to purchase as well :)
2013 Vintage Fall Release
Laissez les bons temps rouler!

(Let the good times roll!)
We've been very lucky to have had two consecutive amazing vintages here in California. And it might be hard to believe, but 2013 is even better than 2012. I know, I know - you're all tired of me saying how good the 2012s are, and now the 2013s, so... I'll keep it brief:
Come and get 'em!
We do apologize for the early release. We normally wait until August, but harvest (again) looks like it'll start very early this year, so we wanted to get this out before we got distracted by tons and tons of grapes. They're needy little buggers, and take up virtually all of our time once they arrive. We're also (again) getting lots of queries from our distributors about the new wines. Apparently they've heard the EVEN BETTER THAN 2012 talk as well. So we'd like to make sure that you, the most DISCERNING, INTELLIGENT, and dare I say ATTRACTIVE customers on the planet get to make your preferences known before we release allocations to distributors.
There were really great yields in 2013, so we'll be holding our pricing steady. We're consumers too, so we're aware how painful price increases can be. We're doing our best to keep prices as fair as possible. And we'll continue to avoid increasing prices for as long as we can.
As with the 2012 vintage release, we're offering only the mixed case of Pinot. We've pre-discounted the Chardonnays so that you get the best price from bottle one. We thought that'd be less confusing than having multiple mixed case options. Of course, that probably means it will add confusion, so we apologize ahead of time. We suffer from a disease we like to call... "it was clear in our head". So please be patient with us. And BTW... 2013 was really good for Chardonnay as well :)
The normal notes apply: The wines won't ship until Oct-Dec, weather permitting. You may specify to pick up your wines, in which case they will be available starting August 30th at our new Tasting Room in Buellton. And while we continue to stand behind every wine we make, we won't bail you out of jail, pay child support for babies conceived, nor take responsibility for any incriminating photos that result from even the proper use of our product.
These wines are now available for purchase to List Members through our on-line ordering system.
We Have a New Tasting Room!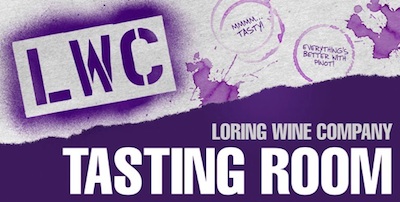 420 East Hwy 246, Buellton, CA 93427
Our BRAND NEW tasting room in collaboration with Cargasacchi and Point Concepcion is located at 420 East Hwy 246 in Buellton, between Ostrich Land and the Hitching Post II Restaurant. We are open Thursday through Monday from 10am to 5pm. Please call for an appointment for groups of six or more. To contact the tasting room staff, please call (805) 691-1300 or Email Us!